You are currently browsing the category archive for the 'Classroom Life' category.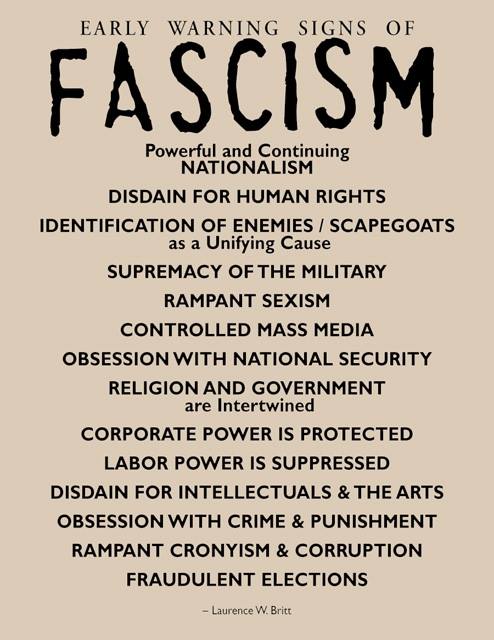 A local media outlet recently wrote
"Why the constant, often blatant lying? For one thing, it functioned as a means of fully dominating subordinates, who would have to cast aside all their integrity to repeat outrageous falsehoods and would then be bound to the leader by shame and complicity. "The great analysts of truth and language in politics" — writes McGill University political philosophy professor Jacob T. Levy — including "George Orwell, Hannah Arendt, Vaclav Havel — can help us recognize this kind of lie for what it is…. Saying something obviously untrue, and making your subordinates repeat it with a straight face in their own voice, is a particularly startling display of power over them. It's something that was endemic to totalitarianism."
How often does this happen in our classrooms?  How often do we require students to memorize and repeat things they actually think are nonsense?  
"Heavy things fall at the same speed as light things." (Sure, whatever.)
"An object in motion will stay in motion forever unless something stops it." (That's ridiculous.  Everyone knows that everything stops eventually.  Even planets' orbits degrade.).
When you burn propane, water comes out. (Pul-lease.)
The answer to "in January of the year 2000, I was one more than eleven times as old as my son William while in January of 2009, I was seven more than three times as old as him" is somehow not, "why do you not know the age of your own kid?"
Real conversation I had with a class a few years ago:
Me: what do you think so far about how weight affects the speed that things fall?

Students (intoning): "Everything falls at the same speed."

Me: So, do you think that's weird?

Students: No.

Me: But, this book… I can feel the heaviness in my hand.  And this pencil, I can barely feel it at all.  It feels like the book is pulling harder downward on my hand than the pencil is.  Why wouldn't that affect the speed of the fall?"

Student: "It's not actually pulling harder.  It just feels that way, but that's weight, not mass."

Me: (weeps quietly)
Please don't lecture me about the physics.  I'm aware.  Please also don't lecture me about the terrible fake-Socratic-teaching I'm doing in that example dialogue.  I'm aware of that too.  I'm just saying that students often perceive these to contradict their lived experience, and research shows that outside of classrooms, even those who said the right things on the test usually go right back to thinking what they thought before.
And no, I'm not comparing the role of teachers to the role of Presidents or Prime Ministers.  I do realize they're different.
Should I Conclude Any of These Things?
Students' ability to fail to retain or synthesize things that don't make sense to them is actually a healthful and critically needed form of resistance.
When teachers complain about students and "just memorizing what they need for the test and forgetting it after, without trying to really digest the material," what we are complaining about is their fascism-prevention mechanism
Teachers have the opportunity to be the "warm up," the "opening act" — the small-scale practice ground where young minds practice repeating things they don't believe, thinking they can safely forget them later.
Teachers have the opportunity to be the "innoculation" — the small-scale practice ground where young minds can practice "honoring their dissatisfaction" in a way that, if they get confident with it, might have a chance at saving their integrity, their souls, and their democracy.
Extension Problem
Applying this train of thought to the conventional ways of doing corporate diversity training is left as an exercise for the reader.
Did you know robots can help us develop growth mindset?  It's true.  Machine learning means that not only can robots learn, they can teach us too.  To see how, check out this post on Byrdseed.  I have no idea why watching videos of robots making mistakes is so funny, but my students and I were all in helpless hysterics after the first minute of this one…
After a quick discussion to refresh our memories about growth mindset and fixed mindset (which I introduced in the fall using this activity), I followed Ian's suggestion to have the students write letters to the robot.  One from each mindset.  I collated them into two letters (shown below), which I will bring back to the students tomorrow.  All of this feeds into a major activity about writing good quality feedback, and the regular weekly practise of students writing feedback to themselves on their quizzes.
I didn't show the second minute of the video until after everyone had turned in their letters.  But I like Ian's suggestion of doing that later in the week and writing two new letters… where the fixed mindset has to take it all back.
| | |
| --- | --- |
| Fixed Mindset | Growth Mindset |
| Dear robot, try not flipping pancakes.  Just stop, you suck.  Why don't you find a better robot to do it for you? You are getting worse.  There is no chance for improvement.  Give up, just reprogram yourself, you'll hurt someone. Perhaps you weren't mean to flip pancakes. Try something else.  Maybe discus throwing. | Dear robot, please keep trying to flip the pancake. At least it left the pan on attempt 20.  Go take a nap and try again tomorrow.  Practise more. Don't feel bad, I can't flip pancakes.  Keep working, and think of what can help.  I see that you're trying different new techniques and that's making you get closer. Maybe try another approach.  Would having another example help? Is there someone who could give you some constructive feedback? Or maybe have a way to see the pancake, like a motion capture system. That would help you keep track of the pancake as it moves through the air. Keep going, I believe in you! |
I wrote last month about new approaches I'm using to find out what students think, keep track of who thinks what, and let the curriculum be guided by student curiosity. When Dan Meyer reblogged it recently, an interesting conversation started in the comments on that site.  The question seems to be, "how is this different from common practises?"  It sparked my thinking, so I thought I'd continue here.  If you're a new reader, welcome.
Just Formative Assessment?
It may be helpful to know that I'm teaching a community college course on the basics of electricity.  The students come in brimming with questions, assumptions, and ideas about how electricity works in their lives — phone chargers, car batteries, electric fences, solar panels.  And all new knowledge gets judged immediately in that court of everyday life. What I'm trying to do better is to discover students' pre-existing ideas and questions, especially the ones I wouldn't have anticipated.
I agree that there is a way in which this is nothing new; in a way, it's the definition of formative assessment.
Many formative assessments inquire into students' thinking as a T/F question: did they get it, yes or no?  Others ask the question as if it's multiple choice: are their ideas about motion Aristotelian, Newtonian, or something else? (See Hestenes' work leading to the Force Concept Inventory).  Some assessments focus on misconceptions: which of these mistaken ways of thinking are causing their problems?  Typically there is some instruction or exercise or activity, and then we try to find out what they got out of it.  Or maybe it's a pre-assessment, and we use the information to address and correct misconceptions.
I'm trying to shift to essay questions:  Not "Do they think correctly" but "What do they think?"  I'm trying to shift it to a different domain: not "what do they think about how this topic was just taught in this class" but "what have they ever thought about this topic, in all the parts of their lives, and how can we weave them together?"  I also hope to ask it for a different reason: not just, "which parts of their ideas are correct"  but also "which parts of their pre-existing ideas are most likely to lead to insight or perplexity?"
As Dan points out, there is a "part 2": This isn't just about shifting what I do (keep a spreadsheet where I record student ideas and questions, tagged by topic and activity they were working on when they asked it).  It's also about shifting my self-assessment.  The best activities aren't just the ones that help students solve problems; the best assessments yield the most honest student thinking.
Which of the activities in your curriculum would you rank highest on that scale?
What do you think makes them work?
Pros: Student Honesty and Motivation
This year, I've got a better handle not only on who holds which ideas,  which ideas are half-digested, applied inconsistently or in a self-contradictory way, and what the students are curious about.
The flashlights you shake to charge — do they work like how friction can transfer electrons from a cat's fur to a glass rod?

What happens if you try to charge a battery but the volts are lower than the battery you're trying to charge?

Batteries' don't get heavier when you charge them — that is evidence that electrons don't weigh much.
For example, if I was looking for a way into the superposition theorem, I couldn't ask for better than this.
Cons: Fear and Conflict
I've written extensively about the fear, anger, conflict, and defensiveness that come to the surface when I encourage students to build a practise of constant re-evaluation, rather than certainty.   What are your suggestions for helping students re-evaluate things when they're sure they already know it? What are your suggestions for helping students notice when common sense pre-conceptions and new ideas aren't talking to each other?
Bonus points: what are your suggestions for helping teachers re-evaluate things when we're sure we already know it?  What about for helping teachers notice when our common sense pre-conceptions and new ideas aren't talking to each other?
Why Am I Obsessed With This?
This is the fear that keeps me awake at night:
The students in the first example had learned in class not to discuss certain aspects of their own ideas or models. In particular, they had learned not to talk about "What things are like?" …

The students in my second and third examples had learned that their ideas were worthless (and confusing to think about).

The problem with (some) guided inquiry like this is the illusion of learning. Instructors doing these kinds of "check outs" can convince themselves that students are building powerful scientific models, but really students are just learning not to share any ideas that might be wrong, not to have conversations that they aren't supposed to have, and to hide interesting questions and insights that are outside the bounds of the "guided curriculum".
…
At the end of the day, if students are learning to avoid taking intellectual risks around the instructor, that instructor doesn't stand a chance of helping those students learn.

(Read the whole thing from Brian Frank)
Which kinds of assessments do you think discourage students from taking intellectual risks around the instructor?  My gut feeling is that anything along the lines of "elicit-confront-resolve" is a major contributor, but I hope that having more data to look at will help me confirm this.
Pros: I Get Honest and Motivated Too
To be clear, I'm not suggesting that no one else has ever done this.  It's common to ask students "how were you thinking it through", such as when discussing a mistake they made on a test.
I don't want to just do it, though.  I want to do it better than I did last year.  I want to systematically keep track of student ideas and, together with the students, use those ideas to co-create the curriculum. Even the wrong ideas.  Especially the wrong ideas.  I want them to see what's good in their well-thought out, evidence-based "wrong" answers, and see what's weak about poorly thought out, unsubstantiated "right" answers.  I want them to do the same for the ideas of their classmates, especially the ideas they don't share.
It means that sometimes we go learn about a different topic.  If they're generating curiosity and insight about parallel circuits, I'm not going to force them to shift to series circuits.  It wastes momentum (not to mention goodwill… or what you might call "engagement" or "motivation").  They know what the goal of the course is; they've paid good money and invested their time in reaching that goal.  We come up with a plan together of what it makes sense to learn about next, so that we move closer to the goal.
Want to help me improve?  Here's the help I could really use.   If you were one of the people whose first reaction to my original post was "I already know that" — either I already know that to be true, or I already know that to be false… what would have helped you respond with curiosity and perplexity, adding your idea as a valuable one of many?  If that was your response, what made it work?
By last winter, the second year students were pretty frustrated.  They were angry enough about the workload to go to my department head about it.  The main bone of contention seemed to be that they had to demonstrate proficiency in things in order to pass (by reassessing until their skills met the criteria), unlike in some other classes where actual proficiency was only required if you cared about getting an A.  Another frequently used argument was, "you can get the same diploma for less work at [other campus.]" Finally, they were angry that my courses were making it difficult for them to get the word "honours" printed on their diploma.  *sigh*
It was hard for me to accept, especially since I know how much that proficiency benefits them when competing for and keeping their first job.  But, it meant I wasn't doing the Standards-Based Grading sales pitch well enough.
Anyway, no amount of evidence-based teaching methods will work if the students are mutinous.  So this year, I was looking for ways to reduce the workload, to reduce the perception that the workload is unreasonable, and to re-establish trust and respect.  Here's what I've got so far.
1. When applying for reassessment, students now only have to submit one example of something they did to improve, instead of two.  This may mean doing one question from the back of the book.  I suspect this will result in more students failing their reassessments, but that in itself may open a conversation
2. I've added a spot on the quiz where students can tell me whether they are submitting it for evaluation, or just for practise.  If they submit it for practise, they don't have to submit a practise problem with their reassessment application, since the quiz itself is their practise problem.  They could always do this before, but they weren't using it as an option and just pressuring themselves to get everything right the first time.   Writing it on the quiz seems to make it more official, and means they have a visible reminder each and every time they write a quiz.  Maybe if it's more top-of-mind, they'll use it more often.
3. In the past, I've jokingly offered "timbit points" for every time someone sees the logic in a line of thinking they don't share.  At the end of the semester, I always bring a box of timbits in to share on the last day.  In general, I'm against bribery, superficial gamification (what's more gamified than schooling and grades??), and extrinsic motivation, but I was bending my own rules as a way to bring some levity to the class.  But I realized I was doing it wrong.  My students don't care about timbits; they care about points.  My usual reaction to this is tight-lipped exasperation.  But my perspective was transformed when Michael Doyle suggested a better response: deflate the currency.
So now, when someone gives a well-thought-out "wrong" answer, or sees something good in an answer they disagree with, they get "critical thinking points".  At the end of the semester, I promised to divide them by the number of students and add them straight onto everyone's grade, assuming they completed the requirements to pass.  I'm giving these things out by the handful.  I hope everybody gets 100.  Maybe the students will start to realize how ridiculous the whole thing is; maybe they won't.  They and I still have a record of which skills they've mastered;  and it's still impossible to pass if they're not safe or not employable. Since their grades are utterly immaterial to absolutely anything, it just doesn't matter.  And it makes all of us feel better.
In the meantime, the effect in class has been borderline magical.  They are falling over themselves exposing their mistakes and the logic behind them, and then thanking and congratulating each other for doing it — since it's a collective fund, every contribution benefits everybody.  I'm loving it.
4. I've also been sticking much more rigidly to the scheduling of when we are in the classroom and when we are in the shop.  In the past, I've scheduled them flexibly so that we can take advantage of whatever emerges from student work.  If we needed classroom time, we'd take it, and vice versa.  But in a context where people are already feeling overwhelmed and anxious, one more source of uncertainty is not a gift.  The new system means we are sometimes in the shop at times when they're not ready.  I'm dealing with this by cautiously re-introducing screencasts — but with a much stronger grip on reading comprehension comprehension techniques.  I'm also making the screencast information available as a PDF document and a print document.  On top of that, I'm adopting Andy Rundquist's "back flip" technique — screencasts are created after class in order to answer lingering questions submitted by students.  I hope that those combined ideas will address the shortcomings that I think are inherent in the "flipped classroom."  That one warrants a separate post — coming soon.
The feedback from the students is extremely positive.  It's early yet to know how these interventions affect learning, but so far the students just seem pleased that I'm willing to hear and respond to their concerns, and to try something different.  I'm seeing a lot of hope and goodwill, which in themselves are likely to make learning (not to mention teaching) a bit easier.  To be continued.
My last post was about encouraging my students to re-evaluate what they think is certain.  I'm trying to help them break the habit of arguing from authority, of stepping in with swift shame and punishment of classmates who are "wrong," and encourage them to notice their own thinking… and even to go so far as exposing that thinking to the class!  Even when they're unsure!!  And in fact to become unsure.  To seek out uncertainty and celebrate it as a form of intellectual courage.  That's going to be scary, and it depends on creating a supportive climate.
I responded to a comment on that post, in part: "I do realize that I'm pulling the rug out from under their trust in their own perception of reality, and that's an unpleasant experience no matter what. Sometimes I think this is actually a spiritual crisis rather than a scientific one."  To be fair, I'm careful not to suggest that their perception of certainty is invalid; only that it is important to notice the evidence that underlies it.  But that means considering the possibility that the evidence could once in a while not be strong enough.  That new knowledge might complicate old knowledge. In the conversations that follow, the students talk about wondering whether certainty exists at all, and whether anything exists at all, and what knowing means in the first place.  That leads to what it means to "be right"… and then what it means to "do right."
Because… if you can't know things for sure, you can't be a good person?  I think?  Because there is a single correct answer and deviating from that is not only to "be wrong" — it is to "do wrong."  And if you "sin" in this way privately in your own head, that's bad enough to inspire fear of meaninglessness.  But if you do it in front of others, it's shameful and inspires fear of punishment.
My best guess is that they have tangled up "right and wrong test answers" with "right and wrong moral behaviour" — being a "good person" means being a good student… usually a compliant one.
And since our definition of "moral good" is so narrow (especially in school systems), you don't have to be "wrong" to be "bad."  Even failing to be sure is failing to be "good".
So, I'm provoking a moral, or maybe a spiritual, crisis — or maybe exposing an underlying crisis that was there all along.  What do I do about it?  How do I help students enter into uncertainty without being immobilized or injured by it?  They don't know what to do when the rigid rules are removed, and I don't know what to do when they get scared.  What do we do when we don't know what to do?
Our classroom conversations range over ontology, epistemology, ethics, and, yes, faith. I realize I'm treading on thin ice here; if you think opening a conversation about faith and spirituality in my classroom (or on this blog) is a mistake, I hope you'll tell me.  But I don't know how to talk about science without also talking about why it's not faith, to talk about truth and integrity without talking about what it means to do what's "right", why all of these might contribute to your life but one can't be treated as the other.  And it's a line of conversation that the students dig into avidly, almost desperately. Putting this stuff on the table seems to offer the best possibilities for building trust, resilience, and critical thinking.
So when the students open  up about their fear and anger around what "right and wrong" have meant in their lives, and why so many possibilities of what they could mean have been hidden from them, I go there (with care and some trepidation).  I'm careful not to talk about particular sects or creeds — but to invite them to think about what they think of as morally right and wrong, what fits into that structure, and why models of atomic structure don't need to be shoehorned into that framework.
There is occasionally some overlap though.
A historical figure I've learned a lot from wrote in her journal about re-evaluating an especially weighty authority…
And then he went on … "Christ saith this, and the apostles say this;' but what canst thou say?" …  This opened me so, that it cut me to the heart; and then I saw clearly we were all wrong. So I sat down … and cried bitterly… "We are all thieves; we are all thieves; we have taken the [ideas] in words, and know nothing of them in ourselves."
Since this belongs to a particular faith community, I don't bring it into the classroom.  I think about it a lot though; and it's the spirit I hope students will bring to their re-evaluation of the high school physics they defend so dearly.
If I expect them to respect and honour the thinking of their classmates when they think it's wrong (Bad? EVIL?), it's crucially important that they feel respected.  If I want them to stop arguing from authority, I have to be meticulous about how I use mine. One technique I'm going to try tomorrow is sharing with the class some of the "cool moves" I noticed on the most recent quiz.
New Plan
Despite my angst about this issue, I'm actually thrilled by the curious, authentic, and humble thinking that's happening all over the place.  So tomorrow I'll show some of these (anonymous) examples of non-canonical ideas and explain what I think is good about them.
As for the students who argue from authority and squash all other ideas, I seem to be failing at understanding their needs and changing their minds.  I'll keep working on it.  But I'm also going to try something new.  I will make sure to seek out their assistance in dreaming up praise for their classmates.
Creating a classroom culture of inquiry is getting better and better every September in most ways. It's especially working well to reassure the students with little previous physics experience, to excite the students with previous unpleasant experiences with physics, to challenge the students who found previous physics classes boring or stifling, and to empower students who've been marginalized by schooling in general. Those are the students who have been dissatisfied with their previous learning.  Perhaps for the first time, someone besides them is honouring their dissatisfaction.  Seeing them thrive, as their resistance to authoritarianism becomes their learning's rocket fuel, gives me hope for human survival.
But one thing I'm still struggling with is responding well to the students who have been taught to uncritically regurgitate "correct" answers — and who've embraced it.  You know — the "good" kids.  I don't know what to do with them.
I've been prioritizing the needs of the students who've been punished and rejected by school systems, by entering together into a conversation of curiosity, intellectual humility, peer support, excitement about the generative potential of not-knowing, and co-construction.  I don't regret that.
But the students who've been praised and rewarded are also my students. The hands-waving-in-the-air students trying so hard to impress me, the students vomitting strings of polysyllabic nonsense, the ones for whom it is a satisfying game and maybe even a noblesse obligé to expose other answers as "wrong" and shameful… preferably with urgency, by interrupting and talking over others, as if something terrible might happen if "wrongness," or even simply an alternate theory, was allowed to exist for a second longer than necessary… the ones playing the "guess what the teacher wants to hear" game, or its sibling, "try-to-make-the-teacher-look-stupid-and-wrong" (distinguished only by whether they decide that the "correct" authority is me or someone else), the ones who are willing to disregard what they see with their own eyes or know in their own bodies so they can publicly proclaim their alignment with "correctness,"  make me want to cry and get drunk and fear that a descent into fascism is inevitable.  They will need their own kind of support if they are ever going to be technicians — and for that matter, if they are ever going to stop derailing their classmates' learning. They too have resistance and defiance and dissatisfaction that they can use for fuel. And I'm failing. Because when I interact with these students, I feel dread and despair.
I'm usually able to take them aside and have a quiet conversation after class, asking about them, what they care about and are interested in, what they've learned in the past, what they're curious about… and use that to lead in to a question about how they too have responsibilities to help make room for everyone's curiosity.  But sometimes even that's not enough, and they go on squashing or shaming or patronizing or interrupting.
How do I get curious about their ideas when I'm afraid to scratch the surface, for fear that what's just underneath is a culture of supremacy?  How do I find my way in to supporting them? My conflict mediation coach suggests finding out what need they are meeting with their "correctness-seeking" behaviour. What they get from that experience that they're not getting elsewhere.  So far, no question I've asked has had much success in yielding that information.  I'm also afraid of the effect they have on the other students.  Their dismissive insistence that other people's theories are "wrong" can quickly undo weeks of carefully cultivating a spirit of exploring, evaluating the evidence ourselves, and being ok with uncertainty or provisional ideas; their pat answers to other people's questions make it seem like it's stupid to be curious at all.
I have a bunch of options here… one is an activity called "Thinking Like a Technician" where I introduce the idea that "believing" is different from provisionally accepting the theory best supported by the current evidence.  I show the Wikipedia page for atomic theory to draw out the idea that there are many models of the atom, that all of them are a little bit wrong, and that our job is to choose which one we need for which situations.  Since none of the ideas are perfect, we can't and don't have to figure out which one is "right."  That seems to help a bit, and give us some points of reference to refer back to.
I show a video with Malcolm Longair and Michio Kaku explaining that atoms are made of mostly nothingness.  But I think it makes it worse.  The students who are excited get more excited; the ones who feel like I'm threatening the authority of the high school physics teachers they idolize get even angrier and more defensive.  For the rest of the class, it's wonderful — but for this subset, it's uncomfortably close to Elicit-Confront-Resolve.  They experience it as a form of "expose-and-shame", and unsurprisingly they retaliate.  If they can't find some idea of mine to expose and shame, they'll turn on the other students.
Something I'm trying to improve: How do I help students re-evaluate things that seem solid?  It's not just that they respond with defensiveness; they also tend to see the whole exercise of inquiry (or, as some people call it, "science") as a waste of time.  We literally can't do science if we are so uncomfortable with "not-knowing" that we run around slapping pat answers on every question like some depressing game of whack-a-mole.  What could make it worth re-considering assumptions and evidence when you're that sure?
Extension Problems
What happens when we apply this line of thinking except that, instead of defensive students learning about physics, we are talking about, say, defensive straight people learning about LGBTQ+ rights?
Is it different when we apply it to people defensively trying to prove that they already know everything about gay rights, vs. people defensively arguing that they're already sure that gays shouldn't have rights in the first place?
The latest post at Educating Grace is about breaking down classroom cultures of "fishing for or steering people towards the right answer, treating wrong answers as dangerous, only valuing people who give right answers."  My comment got so long that Blogger wouldn't accept it — so I'm posting here instead.
Grace starts by posting a short video clip of a PD session with math teachers, focusing on a moment where a math teacher tries to come up with a non-standard algorithm but ends up getting the wrong answer.  You should go watch it now.
I actually found it hard to watch.  I felt uncomfortable with the responding teacher's growing embarrassment, as well as with the vocal performance of her embarrassment.  In the moment, I interpreted the stage-whispers she shared with a seat-mate as a way of letting the rest of the room know that she knew, of course she knew why it was wrong.  Which goes back to Grace's point — we are in a culture where it would be shameful not to know. Mistakes require some gesture of face-saving by the mistake-maker to prove that she knows, and probably some gesture of chiding from bystanders to prove that they also know — lest they be dragged into the shame of not-knowing by association.  If it was uncomfortable for me to watch, it makes me think of how squirmy it must make students…
1.  I wanted to spend less time unpacking the idea when it was first mentioned, not more. Maybe because she loses face more for every minute she continues to make the mistake?  But maybe also because asking someone to repeat their point is (in the generic classroom of my imagination) often a cue that the teacher wants you to say something else.
So I was imagining myself writing down her process as soon as she said it, and collecting more.  Sometimes I have had success undermining the cult of correctness by putting some distance between the speaker and the strategy.  After there are 5 or 6 strategies on the board, especially if they don't all match, I can go back and ask students to think about the pros and cons of each one.
2. Another strategy that sometimes helps me is getting people to pool their answers in small groups, and report back as a group.  This doesn't solve the problem — they will still tend to correct each other, argue, and be mortified if their solution is different from their group-mates' — but it means the loss of face happens in front of fewer people, where it might be more manageable.
Sometimes I explicitly help students practise recording all the strategies from their group and reporting all of them — I encourage them to discuss the differences without trying to convince the others.  Their default strategy for listening is often "decide whether it's right or wrong", so just telling them to stop doing that doesn't work as well as giving them something else to do: "try to figure out why a reasonable person might think that."
3. Another thing I don't do as often as I would like is asking people to record all the strategies that they think work, and then strategies that look plausible but don't work.  Recording *all* of them on the board, asking people not to say which ones are which, helps break down the assumption that all things written on boards are automatically true.  This is somewhat inspired by Kelly O'Shea's "Mistake Game".
When we are looking through strategies that don't work, I go back to the class with "why might a reasonable person think this."  With teachers, we might be able to deflect attention away from ourselves by asking, "This is a tempting strategy that a student could easily use.  Why might a student think this?  If they did, what could help them sort it out?"
A related approach is, "what question is this the right answer to?"  Where one commenter on the original post found something good about the strategy's algebra, I'm finding something good about the strategy's heuristics.  I'm not thinking about what you should actually multiply the denominator by.  I'm thinking, "that would be a good strategy if we were maintaining the same speed and trying to figure out how far we got in 1.5 hours (27 miles)." In this question we're maintaining the same distance, and asking how fast, not how far…. but it's still an example of using the previous problem to solve a new one.
In the debrief, I found myself wanting to talk about, how easy it is to answer a different question than we meant to, especially if we're trying to do things in a new way.  This must happen to students all the time — they likely have some experience with speed and distance, and some comfortable ways of thinking about them.  We're asking them to think about familiar things in unfamiliar ways, and that's going to be disorienting.  It points to the idea that we have to be careful in our assessments — just because someone gives that kind of answer, it doesn't mean they don't understand speed and distance.  In fact, it might be an indicator of a new layer of connectedness in our thinking — similar to what Brian Frank refers to as "U-shaped development."
The fact that the responding teacher was deliberately trying to come up with a non-standard algorithm shows intellectual courage and autonomy, traits I want to encourage in my students.  What helped her develop that courage?  How could we help our students develop it?  I'd be curious to hear the answers from the teachers in the PD session.
I'm thinking about how to make assessments even lower stakes, especially quizzes.  Currently, any quiz can be re-attempted at any point in the semester, with no penalty in marks.  For a student who's doing it for the second time, I require them to correct their quiz (if it was a quiz) and complete two practise problems, in order to apply for reassessment. (FYI, it can also be submitted in any alternate format that demonstrates mastery, in lieu of a quiz, but students rarely choose that option).
The upside of requiring practise problems is eliminating the brute-force approach where students just keep randomly trying quizzes thinking they will eventually show mastery (this doesn't work, but it wastes a lot of time).  It also introduces some self-assessment into the process.  We practise how to write good-quality feedback, including trying to figure out what caused them to make the mistake.
The downside is that the workload in our program is really unreasonable (dear employers of electronics technicians, if you are reading this, most  hard-working beginners cannot go from zero to meeting your standards in two years.  Please contact me to discuss).  So, students are really upset about having to do two practise problems.  I try to sell it as "customized homework" — since I no longer assign homework practise problems, they are effectively exempting themselves from any part of the "homework" in areas where they have already demonstrated proficiency.  The students don't buy it though.  They put huge pressure on themselves to get things right the first time, so they won't have to do any practise.  That, of course, sours our classroom culture and makes it harder for them to think well.
I'm considering a couple of options.  One is, when they write a quiz, to ask them whether they are submitting it to be evaluated or just for feedback.  Again, it promotes self-assessment: am I ready?  Am I confident?  Is this what mastery looks and feels like?
If they're submitting for feedback, I won't enter it into the gradebook, and they don't have to submit practise problems when they try it next (but if they didn't succeed that time, it would be back to practising).
Another option is simply to chuck the practise problem requirement.  I could ask for a corrected quiz and good quality diagnostic feedback (written by themselves to themselves) instead.  It would be a shame, the practise really does benefit them, but I'm wondering if it's worth it.
All suggestions welcome!
What I Did On My Blogging Hiatus
It's been a busy and fruitful year and a half since I last wrote. Teaching highlights:
I finally got my teaching to play nice with the rest of my life — down from an abominable 80-100 hours of work per week to a manageable 60 (hint: standards-based grading was part of the solution, not the problem).
I noticed that standards-based grading and inquiry-based learning (I aspire to something along these lines) were not just challenging my students understanding of "right and wrong answers" on tests, but also their understanding of "right and wrong" moral behaviour in the world.  No, really.  I saw a sharp uptick in classroom conflict (about course ideas), out-of-class conflict (about everything else), and tearful moral crises.
I found a balance between inquiry-based learning and you-have-to-know-this-because-employers-say-so that lets me sleep at night.
I urgently started learning and practicing ways to help students enter peacefully into disagreement.  My classroom management got 100 times better, partly because I improved our beginning-of-year conversation about community agreements, partly because of these unusually useful online courses, partly because I got better at noticing and encouraging these "intellectual traits".
Not-Directly-Teaching-Related Highlights
I took a semester off using my contract's deferred salary plan, from January – June 2014
I learned to camp solo in the backcountry, including some winter trips
I successfully applied for a reduced instructional assignment for the current academic year — this means 50% work for 50% pay (so my workload is now a charming 30 hours per week)
I studied community-based conflict mediation techniques at the Tatamagouche Centre, Pendle Hill, and a few other places
I spent a lot of time hiking, snowshoeing, skiing, kayaking, and snorkelling
I joined a band that plays Turkish and Balkan music for folk dance parties.  No really…
Topics I May Write About Soon
If you can't get disagreement, does that mean it's the wrong question?
How can we "spread the no" — so one person isn't left alone raising a point?
Single-system thinking vs. multi-system thinking (and how to convert between them)
Making the process of abstraction visible and student-directed
Do students have trouble distinguishing between "there is none" (zero) and "we don't know how much" (null)?
Peak-to-peak amplitude "isn't a subtraction… it's just a difference."  What does this mean and where can we go with it?
What are all the possible things that "DC" can mean?
I did my first round of interim feedback last week.  I asked students to comment on their DC Circuits course:
What do you like?
What do you dislike?
How are we doing with respecting our class norms?
Summary
Overall, students seem to appreciate the critical thinking approach.  They are warming to the idea that the purpose of a question is not necessarily to catch someone out, and they are noticing the difference in how it feels to think quickly vs. slowly, even if they don't always love it.
Here's a sample of the responses.  I'm especially excited about the ones in bold, because they represent things I've struggled with in the past.
I Like
"Shop work — If I'm confused about something in class, it really helps to understand better if I do it myself."

"Being treated as thinkers. I ask a question and we discuss it."

"Being challenged to think instead of just repeating what is taught like a robot."

"When you work in a factory you get in a cycle of just doing and not thinking."

"I like how it's about science"

"Making things work and learning how it works"

"Everyone's theories"

"Positive learning atmostphere"

"Makes me realize how much I like electronics"

"Friday assessments are not stressful."

"Methodical, worksheets are precise."

"Gets more interesting every day"

"I like that I am now better at asking questions about things that I don't understand."
I Dislike
"Nothing"

"A lot of questions go unanswered.  I understand we will learn for ourselves a lot but others are nice to have answered when brought up."

"Pace is a bit fast. Need more time to understand theories."

"Pace is a bit slow.  But I do realize we all have to be on the same level and learn the basics first."

"I dislike feedback sheets, but I really don't care how I learn,"

"Methodical, work sheets can sometimes slow down what should be a simple task.  Am willing to take good with the bad in this case."

"In the beginning I was frustrated about the research we had to do on electrons, atoms, and charge.  I understand why you had us do that though.  I just found it hard and tedious."
What's Going Well With our Rights and Responsibilities?
"Respectful / Positive / Relaxed / Professional / No one makes fun of anyone else"

"Following directions"

"Work ethic"

"Everyone gets along"

"Giving everyone a say in discussions"

"Helping others"

"Answering questions"

"Every one is here to learn"

"Asking questions and being open about concerns"

"You are definitely challenging us and making us think."

"I think we're learning to say 'I don't know' and allow for knowledge gaps."
What Could We Improve About our Rights and Responsibilities?
"Nothing"

"Talking while others are talking.  "

"Give more help time for those who are a little slower"

"More deeper explanation"