You are currently browsing the category archive for the 'Moral Reasoning' category.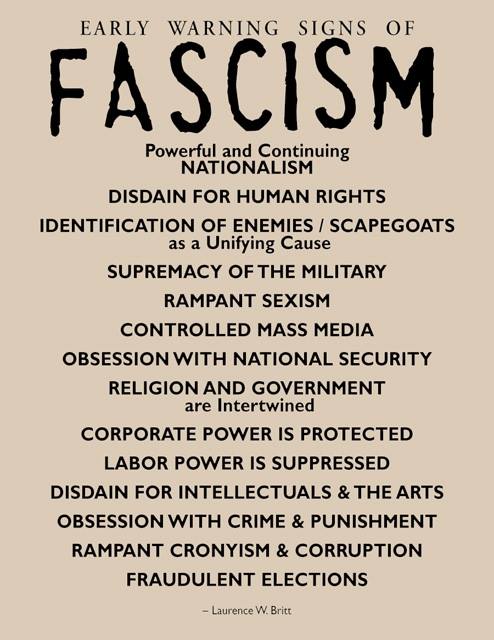 A local media outlet recently wrote
"Why the constant, often blatant lying? For one thing, it functioned as a means of fully dominating subordinates, who would have to cast aside all their integrity to repeat outrageous falsehoods and would then be bound to the leader by shame and complicity. "The great analysts of truth and language in politics" — writes McGill University political philosophy professor Jacob T. Levy — including "George Orwell, Hannah Arendt, Vaclav Havel — can help us recognize this kind of lie for what it is…. Saying something obviously untrue, and making your subordinates repeat it with a straight face in their own voice, is a particularly startling display of power over them. It's something that was endemic to totalitarianism."
How often does this happen in our classrooms?  How often do we require students to memorize and repeat things they actually think are nonsense?  
"Heavy things fall at the same speed as light things." (Sure, whatever.)
"An object in motion will stay in motion forever unless something stops it." (That's ridiculous.  Everyone knows that everything stops eventually.  Even planets' orbits degrade.).
When you burn propane, water comes out. (Pul-lease.)
The answer to "in January of the year 2000, I was one more than eleven times as old as my son William while in January of 2009, I was seven more than three times as old as him" is somehow not, "why do you not know the age of your own kid?"
Real conversation I had with a class a few years ago:
Me: what do you think so far about how weight affects the speed that things fall?

Students (intoning): "Everything falls at the same speed."

Me: So, do you think that's weird?

Students: No.

Me: But, this book… I can feel the heaviness in my hand.  And this pencil, I can barely feel it at all.  It feels like the book is pulling harder downward on my hand than the pencil is.  Why wouldn't that affect the speed of the fall?"

Student: "It's not actually pulling harder.  It just feels that way, but that's weight, not mass."

Me: (weeps quietly)
Please don't lecture me about the physics.  I'm aware.  Please also don't lecture me about the terrible fake-Socratic-teaching I'm doing in that example dialogue.  I'm aware of that too.  I'm just saying that students often perceive these to contradict their lived experience, and research shows that outside of classrooms, even those who said the right things on the test usually go right back to thinking what they thought before.
And no, I'm not comparing the role of teachers to the role of Presidents or Prime Ministers.  I do realize they're different.
Should I Conclude Any of These Things?
Students' ability to fail to retain or synthesize things that don't make sense to them is actually a healthful and critically needed form of resistance.
When teachers complain about students and "just memorizing what they need for the test and forgetting it after, without trying to really digest the material," what we are complaining about is their fascism-prevention mechanism
Teachers have the opportunity to be the "warm up," the "opening act" — the small-scale practice ground where young minds practice repeating things they don't believe, thinking they can safely forget them later.
Teachers have the opportunity to be the "innoculation" — the small-scale practice ground where young minds can practice "honoring their dissatisfaction" in a way that, if they get confident with it, might have a chance at saving their integrity, their souls, and their democracy.
Extension Problem
Applying this train of thought to the conventional ways of doing corporate diversity training is left as an exercise for the reader.
My last post was about encouraging my students to re-evaluate what they think is certain.  I'm trying to help them break the habit of arguing from authority, of stepping in with swift shame and punishment of classmates who are "wrong," and encourage them to notice their own thinking… and even to go so far as exposing that thinking to the class!  Even when they're unsure!!  And in fact to become unsure.  To seek out uncertainty and celebrate it as a form of intellectual courage.  That's going to be scary, and it depends on creating a supportive climate.
I responded to a comment on that post, in part: "I do realize that I'm pulling the rug out from under their trust in their own perception of reality, and that's an unpleasant experience no matter what. Sometimes I think this is actually a spiritual crisis rather than a scientific one."  To be fair, I'm careful not to suggest that their perception of certainty is invalid; only that it is important to notice the evidence that underlies it.  But that means considering the possibility that the evidence could once in a while not be strong enough.  That new knowledge might complicate old knowledge. In the conversations that follow, the students talk about wondering whether certainty exists at all, and whether anything exists at all, and what knowing means in the first place.  That leads to what it means to "be right"… and then what it means to "do right."
Because… if you can't know things for sure, you can't be a good person?  I think?  Because there is a single correct answer and deviating from that is not only to "be wrong" — it is to "do wrong."  And if you "sin" in this way privately in your own head, that's bad enough to inspire fear of meaninglessness.  But if you do it in front of others, it's shameful and inspires fear of punishment.
My best guess is that they have tangled up "right and wrong test answers" with "right and wrong moral behaviour" — being a "good person" means being a good student… usually a compliant one.
And since our definition of "moral good" is so narrow (especially in school systems), you don't have to be "wrong" to be "bad."  Even failing to be sure is failing to be "good".
So, I'm provoking a moral, or maybe a spiritual, crisis — or maybe exposing an underlying crisis that was there all along.  What do I do about it?  How do I help students enter into uncertainty without being immobilized or injured by it?  They don't know what to do when the rigid rules are removed, and I don't know what to do when they get scared.  What do we do when we don't know what to do?
Our classroom conversations range over ontology, epistemology, ethics, and, yes, faith. I realize I'm treading on thin ice here; if you think opening a conversation about faith and spirituality in my classroom (or on this blog) is a mistake, I hope you'll tell me.  But I don't know how to talk about science without also talking about why it's not faith, to talk about truth and integrity without talking about what it means to do what's "right", why all of these might contribute to your life but one can't be treated as the other.  And it's a line of conversation that the students dig into avidly, almost desperately. Putting this stuff on the table seems to offer the best possibilities for building trust, resilience, and critical thinking.
So when the students open  up about their fear and anger around what "right and wrong" have meant in their lives, and why so many possibilities of what they could mean have been hidden from them, I go there (with care and some trepidation).  I'm careful not to talk about particular sects or creeds — but to invite them to think about what they think of as morally right and wrong, what fits into that structure, and why models of atomic structure don't need to be shoehorned into that framework.
There is occasionally some overlap though.
A historical figure I've learned a lot from wrote in her journal about re-evaluating an especially weighty authority…
And then he went on … "Christ saith this, and the apostles say this;' but what canst thou say?" …  This opened me so, that it cut me to the heart; and then I saw clearly we were all wrong. So I sat down … and cried bitterly… "We are all thieves; we are all thieves; we have taken the [ideas] in words, and know nothing of them in ourselves."
Since this belongs to a particular faith community, I don't bring it into the classroom.  I think about it a lot though; and it's the spirit I hope students will bring to their re-evaluation of the high school physics they defend so dearly.
If I expect them to respect and honour the thinking of their classmates when they think it's wrong (Bad? EVIL?), it's crucially important that they feel respected.  If I want them to stop arguing from authority, I have to be meticulous about how I use mine. One technique I'm going to try tomorrow is sharing with the class some of the "cool moves" I noticed on the most recent quiz.
New Plan
Despite my angst about this issue, I'm actually thrilled by the curious, authentic, and humble thinking that's happening all over the place.  So tomorrow I'll show some of these (anonymous) examples of non-canonical ideas and explain what I think is good about them.
As for the students who argue from authority and squash all other ideas, I seem to be failing at understanding their needs and changing their minds.  I'll keep working on it.  But I'm also going to try something new.  I will make sure to seek out their assistance in dreaming up praise for their classmates.
What I Did On My Blogging Hiatus
It's been a busy and fruitful year and a half since I last wrote. Teaching highlights:
I finally got my teaching to play nice with the rest of my life — down from an abominable 80-100 hours of work per week to a manageable 60 (hint: standards-based grading was part of the solution, not the problem).
I noticed that standards-based grading and inquiry-based learning (I aspire to something along these lines) were not just challenging my students understanding of "right and wrong answers" on tests, but also their understanding of "right and wrong" moral behaviour in the world.  No, really.  I saw a sharp uptick in classroom conflict (about course ideas), out-of-class conflict (about everything else), and tearful moral crises.
I found a balance between inquiry-based learning and you-have-to-know-this-because-employers-say-so that lets me sleep at night.
I urgently started learning and practicing ways to help students enter peacefully into disagreement.  My classroom management got 100 times better, partly because I improved our beginning-of-year conversation about community agreements, partly because of these unusually useful online courses, partly because I got better at noticing and encouraging these "intellectual traits".
Not-Directly-Teaching-Related Highlights
I took a semester off using my contract's deferred salary plan, from January – June 2014
I learned to camp solo in the backcountry, including some winter trips
I successfully applied for a reduced instructional assignment for the current academic year — this means 50% work for 50% pay (so my workload is now a charming 30 hours per week)
I studied community-based conflict mediation techniques at the Tatamagouche Centre, Pendle Hill, and a few other places
I spent a lot of time hiking, snowshoeing, skiing, kayaking, and snorkelling
I joined a band that plays Turkish and Balkan music for folk dance parties.  No really…
Topics I May Write About Soon
If you can't get disagreement, does that mean it's the wrong question?
How can we "spread the no" — so one person isn't left alone raising a point?
Single-system thinking vs. multi-system thinking (and how to convert between them)
Making the process of abstraction visible and student-directed
Do students have trouble distinguishing between "there is none" (zero) and "we don't know how much" (null)?
Peak-to-peak amplitude "isn't a subtraction… it's just a difference."  What does this mean and where can we go with it?
What are all the possible things that "DC" can mean?